About me
Welcome to Real Life Nutritionist. I'm Miranda!
And my mission as a Registered Dietitian is to help you make healthy eating easier with simple recipes and truly doable nutrition tips.
I'm located in Ontario, Canada. But through my social media audience (can you believe there's almost 250K of us?!) I support people in the United States and globally too!
My story
My journey with food started with a diet. Don't they all?
Many years ago, I lost weight with Weight Watchers. From the outside, I was a success. But on the inside, I was struggling with low energy, horrible digestion, and a not-so-great relationship with food.
After years of struggling, I left my corporate marketing job to become a dietitian. I wanted to learn how to get healthy without restriction and obsession. And after six years, two degrees, and a lot of unpaid hours in my dietetic internship… I did.
I finally found balance with food–and now it's my mission to help you do the same.
You don't have to choose between a healthy diet and a happy relationship with food. Promise! Real Life Nutritionist is here to show you exactly how.
What is a registered dietitian?
A Registered Dietitian (RD) nutritionist is a regulated health professional that helps people make food decisions that support their health.
To become a dietitian, you have to complete some rigorous requirements:
Undergraduate degree in nutrition and dietetics that includes classes in chemistry, food science, clinical nutrition and research methods
Competitive dietetic internship or combined masters-internship where you learn from other practicing dietitians in a range of disciplines
A national exam to finalize your RD credential
A Registered Dietitian is a trusted source of evidence-based nutrition information because we're held to a high standard by our regulatory college.
And when you work with a dietitian, you know you're hiring a thoroughly trained nutrition professional with a strong academic background.
Learn more about how to become a dietitian in Canada or the United States.
My nutrition philosophy
I believe in the power of nutrition to transform your health.
And I'll never promote anything that can harm your wallet, your mindset, or your relationship with food.
I believe in a nutrition approach that is realistic and doable. After all, a healthy eating pattern is only truly healthy if you can stick to it.
At Real Life Nutritionist, you'll find:
A nutrition approach that celebrates and includes the foods you love
Easy recipes that use minimal and everyday ingredients
Realistic nutrition advice that leaves room for nuance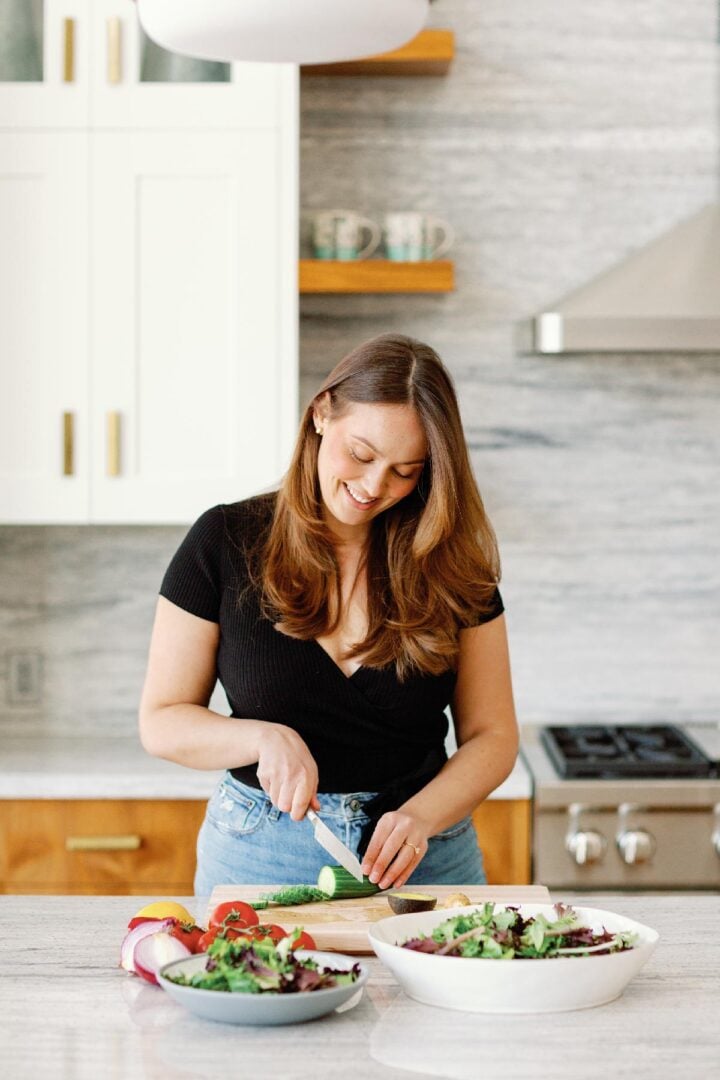 As Seen In
My qualifications
I am a Registered Dietitian and former marketing professional. My training includes:
Registered Dietitian (RD) licensed in the province of Ontario
Master of Health Science (MHSc), Toronto Metropolitan University
Honours Bachelor of Science (BSc), Western University
FODMAP and IBS Training for Dietitians, Monash University
Graduate Certificate in Corporate Communications, Sheridan College
Bachelor of Arts, University of Guelph
Let's connect
Nutrition support
I would be thrilled to support your healthy journey through my courses and ebooks.
Unfortunately, I am not currently accepting new clients for nutrition counseling or coaching.