60 Healthy Non-Perishable Foods: The Dietitian's Guide
We've all done it… That shameful reach to the back of the fridge to toss a 3-week old rotting box of spinach that seems to be growing legs. UGH!
The bad news is, I'm not sure it's humanly possible to finish an entire box of spinach before it goes to waste.
The good news is, non-perishable healthy foods can definitely help.
In this article, we're talking all about healthy non-perishable foods. What they are, how to shop for them, AND a list of 60+ options that will keep you fuelled and satisfied.
Non-perishable foods aren't just for emergencies. So if you want to prevent food waste, save money and lessen your stress in the kitchen, read on.
Are you new here? I'm Miranda–a balanced dietitian committed to helping you eat healthier and transform your relationship with food. I'm all about making things realistic and evidence-based, so stick around if you want a nutrition scoop you can trust.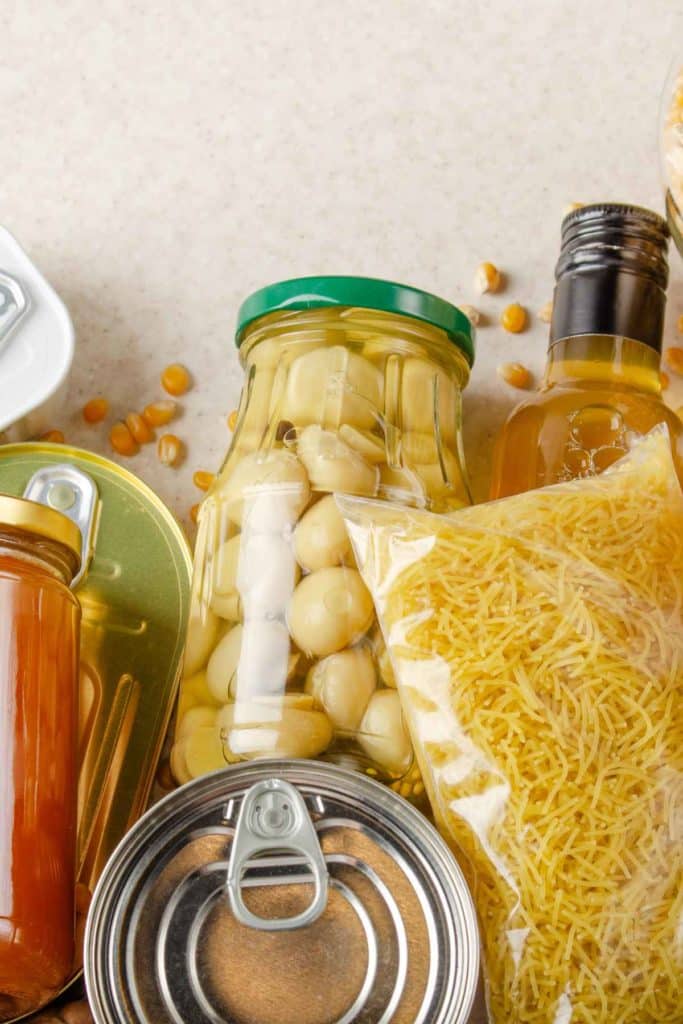 What is non-perishable food?
Non-perishable foods are dried, canned, dehydrated or packaged foods that take a long time to spoil.
Non-perishable foods are shelf-stable, which means they can maintain their quality and safety at room temperature. When stored properly, non-perishable foods can last for months or even years in your pantry.
Examples of non-perishable foods include canned beans, dry cereal, canned juices, dried fruit and peanut butter.
Benefits of non-perishable foods
It's helpful to keep non-perishable foods on-hand in case of emergencies, because they don't require refrigeration or freezing to stay safe.
But non-perishable foods have many other everyday benefits too, including:
Convenience
Run out of fresh vegetables or meat? Non-perishable foods to the rescue!
Shelf stable foods can stay on standby and fill your nutritional gaps at a moment's notice. This convenience means fewer last-minute trips to the store and less stress on busy weeknights.
Affordability
Many non-perishable foods like canned vegetables and proteins are less expensive than fresh options.
Even better? You can stock up on non-perishable foods when they're on sale without worrying about them spoiling.
Availability
Thanks to non-perishable foods, you don't need to wait to enjoy seasonal produce.
Non-perishable foods can be consistently found year-round, which makes meal planning much easier. This can help you get more nutritional variety too.
Are non-perishable foods healthy?
Non-perishable foods are processed or packaged in some way to prevent spoiling.
In that process, manufacturers might add salt, fat or sugar to make non-perishable foods taste better or last longer. Non-perishable food items might include other preservatives or additives too.
But that doesn't make non-perishable foods unhealthy.
First, because healthy eating is about your food patterns overall. And as a dietitian I want to assure you–a few added ingredients or preservatives can easily fit into a balanced diet.
Second, many highly nutritious and health-promoting foods happen to be shelf-stable too. And the fact that they're so convenient, long-lasting and inexpensive is just a bonus.
How to choose healthy non-perishable foods
Have you ever heard of the balanced plate? It's a simple method for healthy eating without restriction that suggests you include proteins, carbohydrates, color and fats at most meals.
This method can help make sure you're getting a good amount and variety of nutritious foods without meticulous tracking. And it can keep you full for longer too.
When choosing non-perishable healthy foods to add to your cupboards, I suggest keeping this balanced plate in mind. Stock up on non-perishable foods in these categories:
Carbohydrates
Color (fruits and vegetables)
Proteins
Fats
Scroll down for a list of healthy non-perishable foods in each category.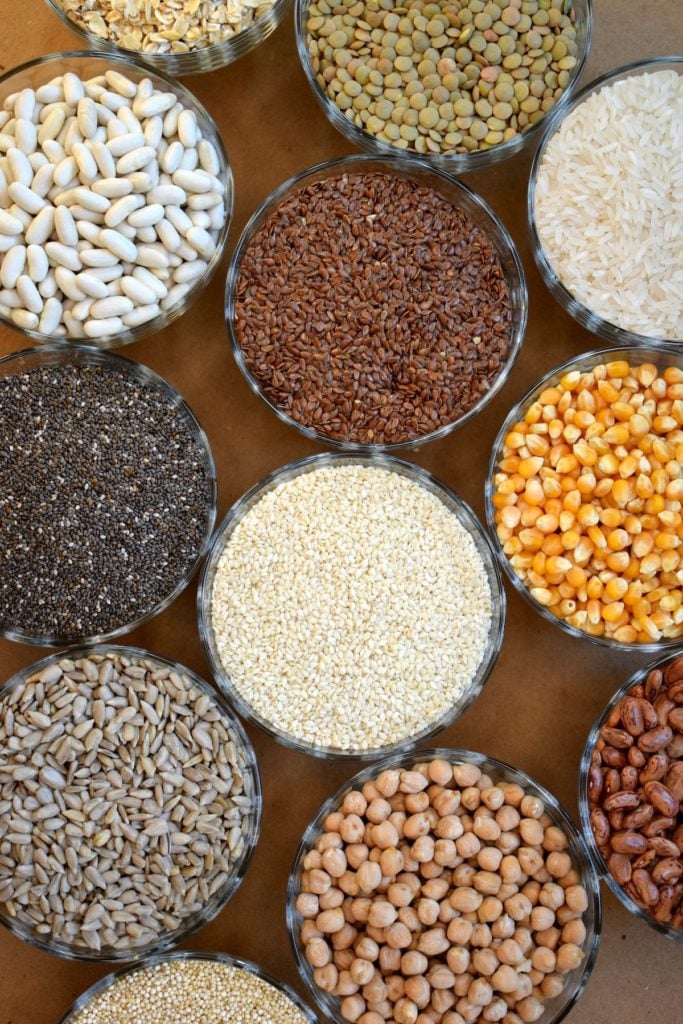 Healthy non-perishable carbohydrates
Carbohydrates or 'carbs' are fuel for our body and cells. They're also delicious and important for feeling satisfied and energized.
Examples of healthy non-perishable carbohydrates include:
Oats
Crackers
Dried lentils
Dried beans
Canned corn
Wheat berries
Canned beans
Uncooked rice
Uncooked millet
Uncooked barley
Uncooked bulgar
Canned potatoes
Whole wheat pasta
Bran buds or flakes
High fiber dried cereal
Cream of wheat cereal
Chickpea or lentil pasta
Dietitian tip: Look for low- or no-sodium options when shopping for canned beans and lentils, or rinse well before eating.
Healthy non-perishable fruits and vegetables
Fruits and vegetables are an important source of water, fiber and micronutrients. They're important for staying healthy and feeling full.
Examples of healthy non-perishable fruits and vegetables include:
Prunes
Raisins
Applesauce
Dried apricots
Freeze dried fruit
Dried cranberries
Canned tomatoes
Dried mushrooms
Pickled vegetables
Canned vegetables
Sun-dried tomatoes
Canned vegetable soup
Jarred peaches in water
Mixed fruit cups in water
Canned mandarin sections
Other canned or jarred fruit in water
Dietitian tip: Choose canned fruits packaged in water instead of syrup for a lower sugar option.
Healthy non-perishable proteins
Protein foods help us build and maintain muscle cells and other tissues–and they're essential to feeling and staying full.
Examples of healthy non-perishable proteins include:
Beef sticks
Bone broth
Protein bars
Turkey jerky
No-spoil milk
Hemp seeds
Canned chilli
Cheese crisps
Protein powder
Canned salmon
Canned chicken
Canned sardines
Skim milk powder
Shelf-stable soy milk
PB2 powdered peanut butter
Canned tuna or tuna pouches
Dietitian tip: Buy canned tuna packed in water instead of oil for a leaner option. But if fish packed in oil is more satisfying to you, that's fine too!
Healthy non-perishable fats
Fats help us absorb and utilize many micronutrients, and they're important for feeling satisfied and full.
Examples of healthy non-perishable fats include:
Tahini
Olive oil
Avocado oil
Jarred olives
Peanut butter
Almond butter
Cashew butter
Sunflower butter
Shredded coconut, unsweetened
Walnuts, pecans, cashews or other nuts
Sunflower seeds, pumpkin seeds or other seeds
Dietitian tip: Store healthy fats in airtight containers in cool, dark environments. They can slowly go rancid when exposed to light, heat and air.
Other healthy non-perishable foods
Examples of other healthy non-perishable foods include:
Flour
Spices
Honey
Vinegar
Trail mix
Pasta sauce
Maple syrup
Almond flour
Granola bars
Low sugar jams
Dark chocolate chips
Dietitian tip: Add 1-2 fun foods to your grocery list each week because a healthy diet includes foods you love.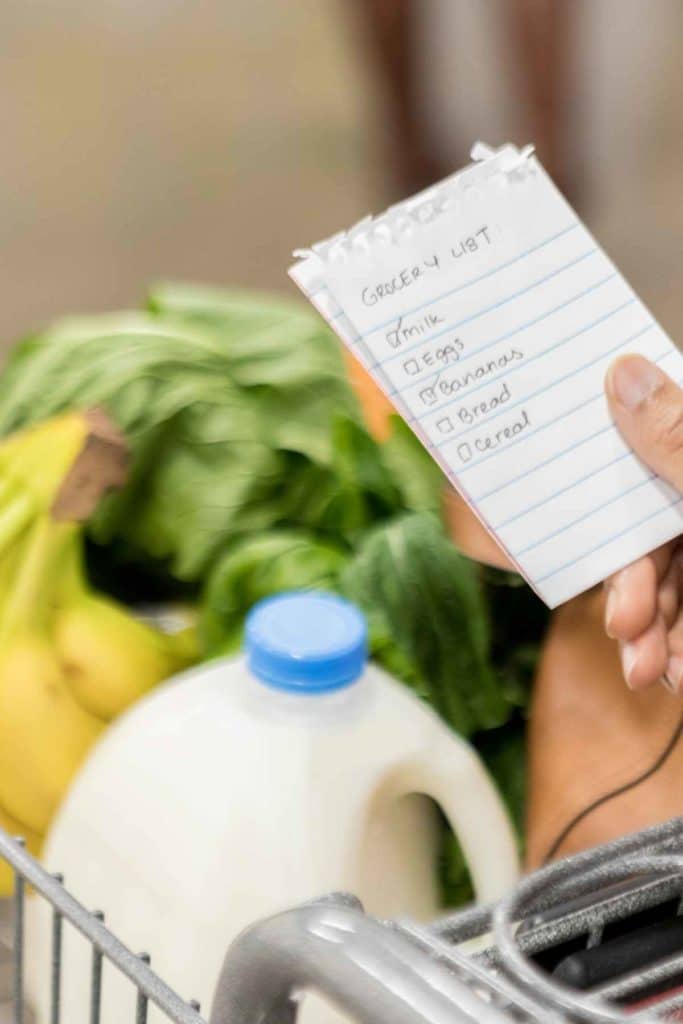 How to add more healthy non-perishable foods to your life
Consider these tips before heading to the grocery store to buy more healthy non-perishable food items:
Shop your cupboards first. Non-perishable foods can accumulate over time without you realizing! Have a look at what you have on-hand already to avoid stockpiling.
Pay attention to expiry dates. Non-perishable foods have a long shelf-life–but they can't last forever. Read up on expiry dates and don't buy more than you can eat.
Look for minimal added ingredients. If health is on your mind, it's helpful to look for options with minimal added fat and sugar when possible.
Use what you buy. It's great to keep a 3-day supply of non-perishable foods ready for emergencies, but make sure you use what you buy weekly. Non-perishable foods are nutritious and delicious, and totally appropriate for everyday cooking!
Final thoughts
Non-perishable foods include dried, canned, dehydrated and packaged foods that are shelf-stable and take a long time to spoil.
They're great for emergencies–but they're also a convenient, affordable and nutritious option for everyday cooking. And even though non-perishable foods may contain added sugar, salt and fat, many are nutrient-dense and perfectly healthy.
Save this list of 60+ healthy non-perishable foods. And if you want more guidance to make healthy eating easier, read these popular articles: