Easy Hummus Dressing
This delicious hummus dressing is the perfect healthy topping to get you craving vegetables! With just 5 nourishing ingredients and a whole lot of flavor, this easy salad dressing is tastier than store bought options… and just as quick to prepare!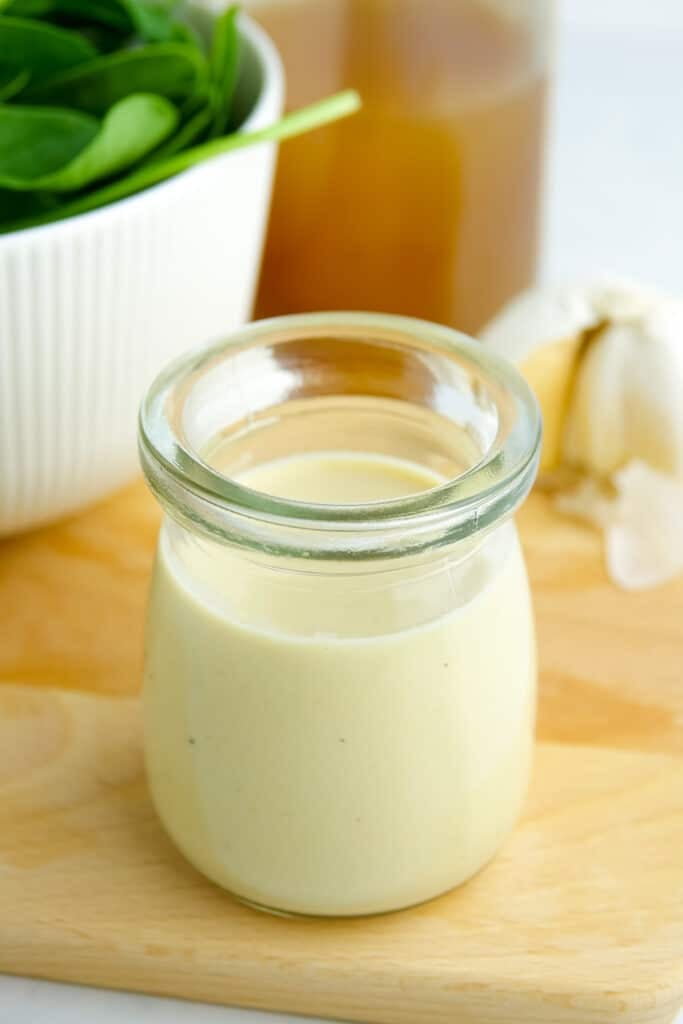 Why it works
This creamy hummus dressing is quick, tasty, and THE salad dressing that made me stop buying store bought options.
You'll love this dressing because it's:
Easy – all you need is 5-minutes and 5-ingredients to make it
Blender-free – you don't need any special equipment to make this dressing
Customizable – you'll never get tired of this recipe because it's so easy to customize
Creamy but not indulgent – this packs less fat than many traditional salad dressings without sacrificing satisfaction
Vegetarian, gluten-free, and dairy-free – and it can be made vegan too
Ingredient notes
You'll need five simple ingredients to make this tasty hummus dressing: hummus, apple cider vinegar, garlic, dijon mustard, and honey.
Here's what you need to know:
Hummus – this is what makes this dressing creamy. Use your favorite store bought hummus (flavored or plain) to keep things easy and weeknight-friendly.
Apple cider vinegar (ACV) – I like the flavor of ACV here, but you could also use fresh lemon juice, red wine vinegar, or white wine vinegar.
Garlic – freshly grated or minced garlic works best, but I don't want you buying any new ingredients for this recipe. Feel free to use jarred garlic if you have it.
Dijon mustard – mustard helps emulsify the ingredients to prevent separation. And it's tasty!
Honey or maple syrup – both work beautifully! You could also use sugar or any sweetener you enjoy.
How to make hummus salad dressing
To prepare this recipe, simply add your ingredients to a bowl, mason jar, or salad dressing shaker and mix! No blender, food processor, or mess required.
Variations
One of the best things about this recipe is that it's so easy to customize. With just a few tweaks or additions, you have a totally new flavor profile so salads never get boring!
Here are some hummus salad dressing variations I've tried and loved:
Spicy – add 2 tsp of your favorite hot sauce
Green goddess – add 1 tbsp of minced herbs like dill, chives, or parsley
Caesar – add an extra clove of garlic and ¼ cup of grated parmesan cheese
Italian – add 1 tsp of dried italian seasoning and 1 tbsp of chopped pepperoncini
Roasted garlic – use roasted garlic hummus
Play with the proportions in this recipe to find what works best for you. Add more garlic, vinegar, or sweetener, and see what you like best.
How to serve hummus dressing
This incredible dressing is perfect for salads, bowls and dipping.
It pairs well with simple garden salads, roasted vegetables, grain bowls, and sweet potato dishes. It also works as a tasty dip for easy veggies like baby carrots and cucumber slices.
What are some good store bought hummus brands?
There's so many delicious store bought hummus brands that would work perfectly in this dressing. Here are some brands and varieties I love:
Caramelized onion and smoked paprika hummus by Sabra
Roasted red pepper hummus by Fontaine Santé
Beets and dill hummus by Sunflower Kitchen
Hot chili za'atar hummus by Halvana
Avocado hummus by Lantana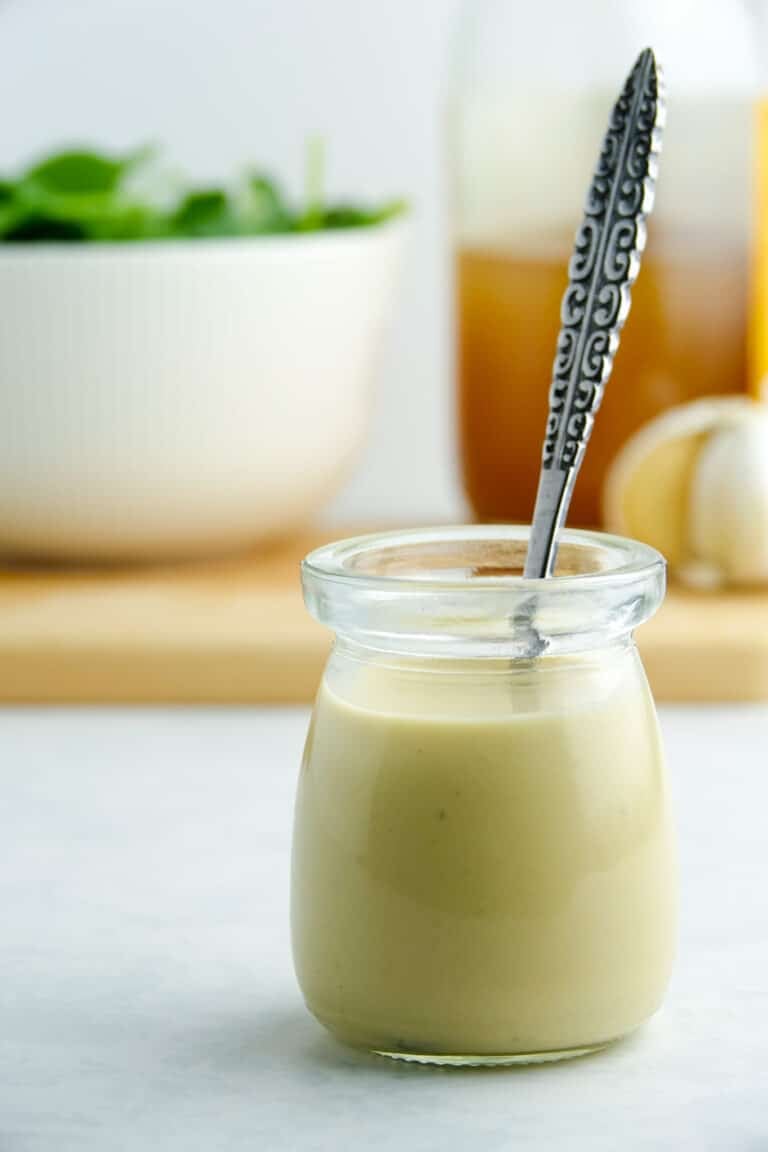 Frequently asked questions
Is this recipe oil-free?
This hummus dressing is oil-free if you use an oil-free hummus. If you don't use oil-free hummus, the dressing will contain varying amounts of oil used to prepare the hummus. Fat in your salad dressing is a good thing because it helps you better absorb and utilize fat-soluble vitamins!
Is this hummus dressing vegan?
This recipe can be made vegan by using maple syrup instead of honey.
How long will this dressing last in the fridge?
This hummus dressing will last up to one week if stored immediately in the fridge in an airtight container.
Other delicious dressings and dips:
Easy Hummus Dressing
This delicious hummus dressing will get you craving vegetables! With just 5 ingredients and a whole lot of flavor, this easy salad dressing is tastier than store bought options… but just as easy!
Ingredients
1/2

cup

store bought hummus

2

tbsp

apple cider vinegar

1

clove

grated garlic

1

tsp

dijon mustard

2

tsp

honey or maple syrup

1-2

tbsp

water

,

to desired consistency

salt and pepper to taste
Instructions
Combine ingredients: Add all ingredients except water to a bowl or container. Whisk or shake until well combined.

Add water: Add water as needed to reach desired consistency.

Serve or store: serve immediately or store for up to one week in an airtight container in the fridge.
Calories:
65
kcal
,
Carbohydrates:
8
g
,
Protein:
3
g
,
Fat:
3
g
,
Saturated Fat:
0.4
g
,
Polyunsaturated Fat:
1
g
,
Monounsaturated Fat:
1
g
,
Sodium:
131
mg
,
Potassium:
82
mg
,
Fiber:
2
g
,
Sugar:
3
g
,
Vitamin A:
10
IU
,
Vitamin C:
0.3
mg
,
Calcium:
15
mg
,
Iron:
1
mg