How to Eat Healthy Without Cooking: The Ultimate Guide
Do you ever feel surprised at just how much work adulting can be? It's the dishes, it's the laundry, and the never-ending question of what's for dinner.
And does it feel like dinner is either ordering takeout (with that expensive delivery fee) or spending way too long at the stove cooking dinner after a long day of work?
Friends: there is a middle ground. As a dietitian, I can show you how to eat healthy without cooking. With my healthy meal formula and some tips about what foods to keep on hand, you'll be able to whip up a tasty dinner that nourishes your body and have more time for your life.
Let's launch this blog post with a quick explanation of what healthy means, so that we can know what we're aiming for with our simple, no-cook meal strategies.
>>> FREE DOWNLOAD: 70+ Convenience Foods to Make Healthy Eating Easier
What is healthy eating?
If we are going to cover a lot of tips and resources for healthy eating without spending hours at the stove, it is important to define what success actually means here. What is healthy eating, according to a dietitian?
I can tell you from experience that people have SO many misconceptions about what healthy eating means. People tend to assume that being healthy has to do with eating a lot less of things:
No salt, no sugar, fat-free, fun-free. Boringggg.
And simply unnecessary! Healthy eating should support your physical health without sacrificing your mental peace. It's about nourishing the body and the soul in a way that feels (mostly!) enjoyable and sustainable to you.
Healthy eating to me, as a registered dietitian, means:
A focus on whole grains, protein, and fat
Finding ways to enjoy more fruits and veggies
Enjoying a variety of foods throughout the week
Eating in a way that is fun and satisfying to your taste buds
And just as important: healthy eating doesn't have to mean spending hours in the kitchen and making everything from scratch. If you enjoy cooking – great! But if that were true, you might not be looking for this article – ha!
Is healthy eating without cooking even possible?
Drumroll please…yes!
It might mean sacrificing your idea of 'perfection'…but that's not a bad thing to let go.
In this article, I'll show you how to cook less. If you lean on my tips, eating healthy meals will feel a lot easier for you…and more fun! Both will help you sustain these habits in the long term, which is always my goal (no fad diets, please, and thanks).
Let's dive into the strategies to eat healthy without cooking so darn much.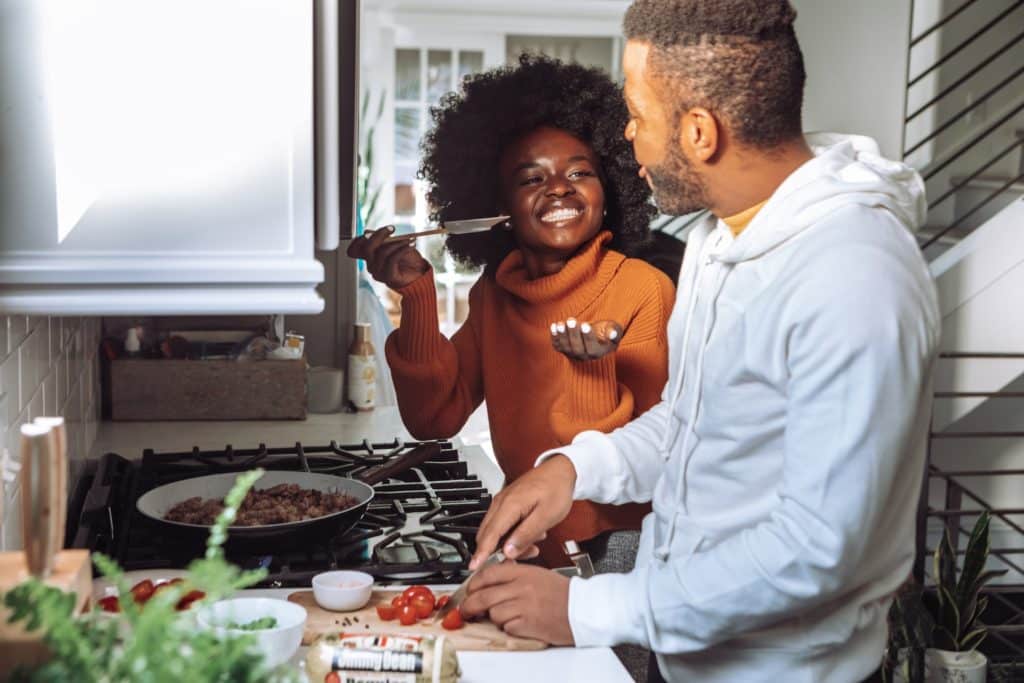 Learn the healthy meal formula
When I'm planning my own meals or walking my clients through meal planning, it is less about a specific recipe and more about a way to assemble meals. The goal is to feed yourself in a way that's satisfying, healthy, and most of all: quick!
Worry less about cooking from scratch and pay attention to how you build your plates instead. When you use a formula, ANY food (including super easy ones) can fit and be turned into a healthy balanced meal.
At most meals, you want to include:
Protein foods like boiled eggs, tofu, rotisserie chicken, greek yogurt or lentils
High-fiber carbs like rice, chickpeas, beans, whole grain bread or quinoa
Colorful fruits and veggies like apples, frozen berries, green beans or spinach
A sprinkle of healthy fats like olive oil, avocado, pumpkin seeds or almonds
And the cool thing is, this formula is flexible: there are so many ways to make your next dinner following this formula. Let's explore a few examples.
Plan for easy meals
Before we dive into easy examples of super-quick meals, let's have one pep talk: I recommend that you give yourself permission to not cook five meals from scratch every week.
It is A-OK that you don't have the time or energy to do that. Being more realistic about your bandwidth lessens shame and stigma about using your time or energy with more intention.
Instead of unrealistic expectations of yourself, make a meal plan and grocery list that reflects the level of ease (and time in the kitchen) you're aiming for. The more realistic your plan, the more likely you'll be to actually implement it.
I'll also challenge your expectation about what kinds of food should be eaten at a certain time of the day. Truly, it doesn't matter. It is possible to be healthy while eating breakfast for dinner, smoothies for lunch, and snack plates for breakfast.
Here are some examples of EASY meals to include in your next plan:
Whole wheat wraps with spinach, rotisserie chicken, and ranch
Nachos with cheese, black beans, and veggies
Canned soup with frozen veggies added
Rotisserie chicken quesadillas with crudites
Boxed mac and cheese with frozen peas and canned tuna
Don't those sound delicious, easy, and way more fun than spending hours and hours over the stove? The key to these healthy meals is to start with some convenience foods.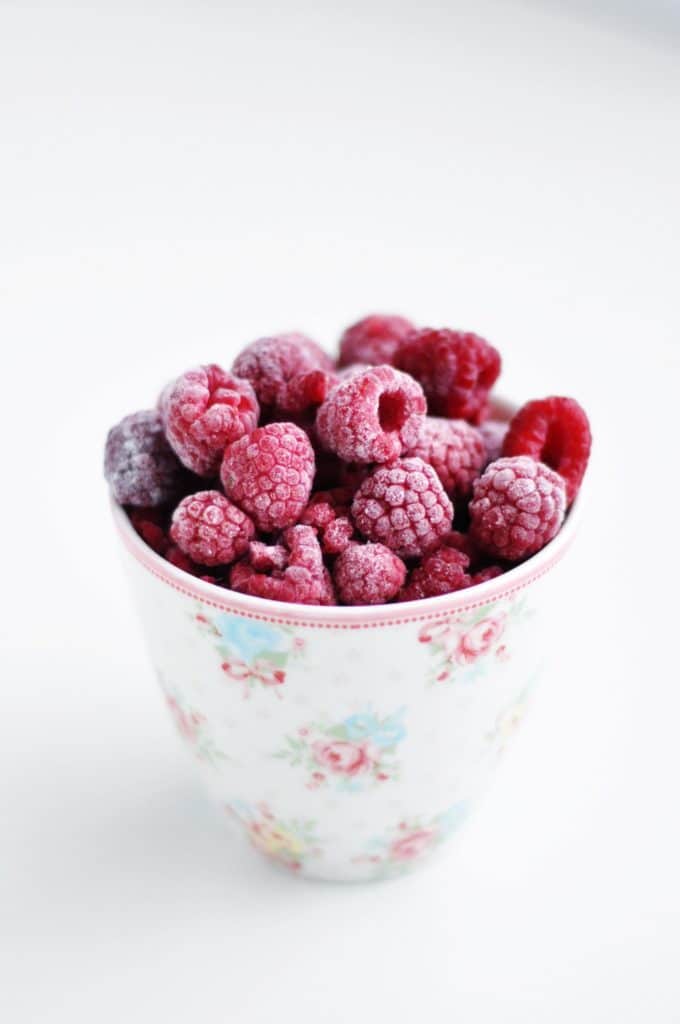 Start with convenience
A big part of making easier meals (and eating healthier without cooking) is keeping easy, no-fuss ingredients on hand.
Let me tell you right now: this is NOT cheating. Using a convenience food IS the healthiest choice if it helps you get in balanced meals more consistently and leaves you feeling good.
Here are a few examples of healthy convenience foods I recommend (and always have on hand) as a dietitian:
Pre-cut and washed vegetables
Rotisserie chicken
Frozen berries
Frozen vegetables
Premade trail mix
Frozen falafels
Canned salmon
Canned beans
Low sodium soup
Premade hard-boiled eggs
Microwave quinoa, brown rice, and other ready-to-eat whole grains
Here's a FREE list of 70+ convenience foods if you need more ideas
Browse the grocery store food bar
Convenience foods aren't the only way that your grocery store can support your goal to cook less.
Grocery stores often have an awesome prepared section with delicious soups, salads, and sandwiches. Don't be afraid to lean on these on days you can't be bothered to step foot into the kitchen.
You can also snag chopped veggies and fruits at the salad bar. Not only can these fruits and veggies be used for a salad (duh!) they can be used for snacks with your favorite dip or to save you time chopping veggies if that isn't your favorite.
Speaking of snacks…let's talk about how they can fit into a healthy eating plan.
Don't forget snacks
Before you leave the grocery store, don't forget to think about what might be easy AND enjoyable to have on hand for snacks.
Snacks can be the perfect opportunity to add nutrition without spending any extra time.
Give yourself permission to enjoy snacks between meals and keep easy snack food staples on hand. While there is nothing wrong with enjoying crunchy potato chips or pretzels as a snack, we can also look for ways to boost nutrition with snacks containing more fruits, veggies, and protein.
Here are a few snack foods I like to keep on hand:
Veggies like baby carrots, snap peas, and mini cucumbers
Grab-and-go fruits like apples, bananas, and pears
Easy proteins like tuna packs, deli turkey, and frozen edamame
For even more balanced snack ideas, check out this blog post: How to Build Balanced Snacks + 30 Healthy Snack Ideas.
How can we rein in that grocery budget? Let's talk through a few strategies.
How to eat healthy on a budget without cooking
Many of us are taking a hard look at our grocery bill and looking for ways to cut back – groceries are so much more expensive than in the recent past.
In general, buying groceries is less expensive than eating out, but there is a wide range of what you spend based on your preferences and habits. For example, prepared foods, such as a rotisserie chicken, are going to cost more than raw chicken, but raw chicken will take more time to prepare.
Rest assured that it is possible to eat healthy without cooking and save money, too. The right answers for you may well vary depending on what is going on in your life in a particular season.
To prioritize cooking less and still eating on a budget, you can consider:
Buying less meat
Oatmeal instead of boxed breakfast cereal
Focusing on frozen fruits and veggies over fresh
Skipping spending money on fun drinks like kombucha
Making coffee at home more often
Buying less alcohol
Here are a few of my favorite no-cook budget-friendly meals for any time of the day:
It always helps to keep the budget in check when you waste less food too. I think we're all guilty of tossing containers of spoiled salad greens, but the more you can use foods before they go bad, the less money you're wasting each month.
Part of the planning is in your food prep!
Prep once and cook less
If you're feeling up to prepping or cooking a LITTLE, it can be helpful to do a little prepping in advance so you have a nourishing meal to eat all week long.
You have to do some cooking upfront, potentially, but you won't have to cook much on busy weekdays.
This might look like:
Preparing a week of overnight oats for breakfast
Preparing a batch of chicken salad for sandwiches at lunch
Making crockpot chili on Sunday for a few days of dinners
Assembling breakfast burritos and stocking your freezer
Doing a bit of prep might also look like getting ingredients ready rather than cooking a formal recipe. This can look like chopping fresh veggies so that they're ready to snack on, hard-boiling eggs to be used in wraps, or cooking your favorite whole grain so that it is ready to enjoy during the week.
There is no right or wrong way to do this; any activity that helps the healthy choice feel like the easy choice is a winner in my book.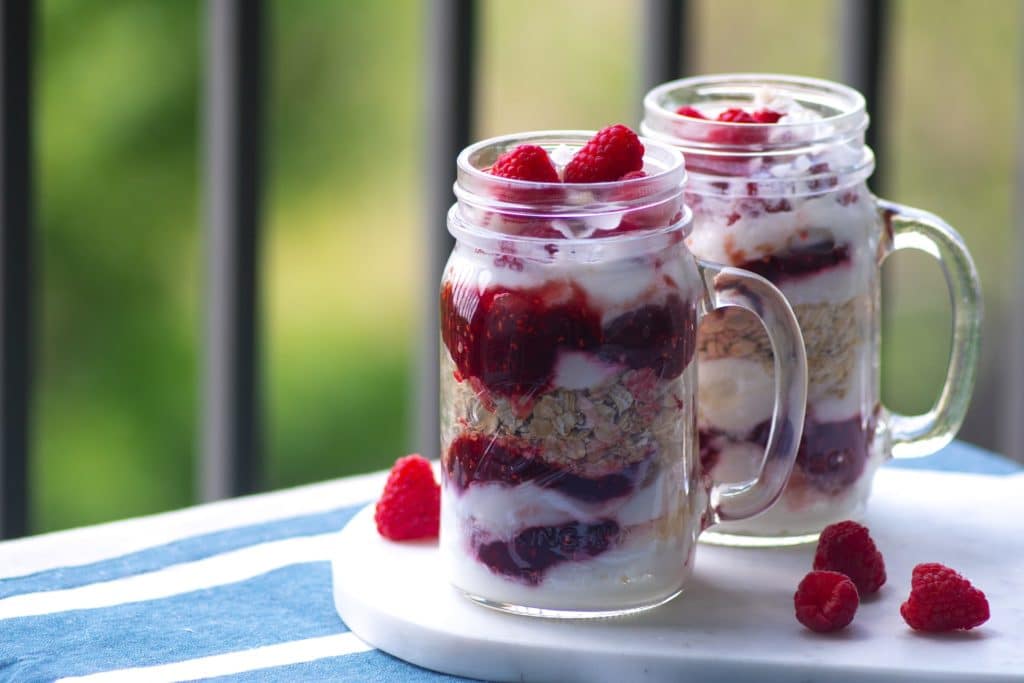 Use your tools
There's no shame in using tools or appliances in the kitchen that make cooking and healthy eating easier. Whatever gets nourishing foods on your plate is a healthy choice.
My three appliances that make my life so much easier are:
Rice cooker – you can cook rice and beans in here… but did you know it does oatmeal too? Set it and forget it.
Slow cooker – it doesn't really count as cooking if you throw a bunch of ingredients in a slow cooker and walk away. Try soups, stews, and casseroles with minimal prep in the slow cooker.
Microwave – cook eggs, quesadillas, and oatmeal.
And if takeout is the only thing that feels doable on a given night? We can make choices to boost nutrition…let's talk about how!
Upgrade your takeout
It probably isn't a surprise that takeout tends to be higher in salt and fat than when we cook at home. That doesn't make it bad, but it does make it a bit more calorie-dense and easier to overeat.
It is worth mentioning that we don't have to try to boost nutrition at every single meal. There is no shame in simply ordering a meal because it satisfies a craving.
But, if you WANT to eat healthier while enjoying the convenience of takeout, you can try to order nourishing takeout options that prioritize protein and fiber.
And when you're at home, feel free to ADD to make things even more balanced. Here are a few examples:
Add canned chickpeas on top of your shawarma salad
Add microwave-steamed broccoli to your Chinese takeout (see how having those frozen veggies on hand can make the healthy choice the easy choice?)
Serve crudites with your favorite takeout burger – those baby cucumbers are my fav!
You may also enjoy a meal delivery service. If the meals at your favorite meal prep company come frozen, you can simply buy a few extra, stash them in your freezer, and have that easy option available when you need it.
Your future self will thank you!
That's a wrap
I hope that this blog has been informative and inspirational for you.
Because dang, sometimes our expectations about healthy eating are outta this world. We do NOT need to cook complicated meals every single day. We don't need to force ourselves to eat things we don't like. And it is perfectly okay to cut corners to make healthy eating easier.
Some ways to do this are using the healthy meal formula from this article, using kitchen appliances, learning how to dress-up takeout, and learning to be okay with convenience foods and easyyyy options.
And as a gift to you, here's a free download for you.
>>> FREE DOWNLOAD: 70+ Convenience Foods to Make Healthy Eating Easier
This dietitian-created resource will add even more ideas for you to consider as you become a healthy-eating rockstar. Yes, you can eat healthily without cooking! And this resource will help show you how.