21 High Protein Vegetarian Snacks to Keep You Full
Looking for veggie-friendly snack options that will actually keep you full for hours?
Fear not! As a Registered Dietitian, I can tell you that the key to filling snacks is protein. And there are plenty of delicious and healthy high-protein vegetarian snacks out there that will keep you energized and satisfied all day long.
In this post, we'll explore 21 of the best high-protein vegetarian snacks that are perfect for satisfying hunger without throwing your nutrition goals off track. So grab a snack because it's time to delve into our list of scrumptious munchies!
What makes a solid snack?
Protein is an important nutrient for many reasons, but it's especially talented at keeping us full.
While animal foods are full of protein, there are plenty of non-meat protein sources that are nourishing, satisfying, and delicious too.
When building a high protein vegetarian snack, I recommend starting with a high protein food first. Honestly, that's because protein is harder to find and not as appetizing. And vegetarian foods aren't always super protein-rich, so it's important to add it wherever you can!
Then, add a fat or carb choice (bonus points for fiber!) to round things out. When we have snacks that include two or more food groups, we get a greater variety of nutrients throughout our day and they'll keep us feeling energized for longer. And more satisfied too.
Which vegetarian proteins are the best? There are a lotta good options!
Best vegetarian protein sources
If you're looking for more plant-based protein sources, there are many foods to choose from!
Protein gives your meals and snacks more staying power and your body the resources that it needs to build muscles, new cells, hormones, and more.
Where to find vegetarian protein:
Dairy like milk, yogurt, and cheese
Nuts and seeds like almonds, cashews, pumpkin seeds and hemp hearts
Beans and legumes like lentils, black beans, kidney beans and chickpeas
Whole grains like whole wheat bread, quinoa and oats
Eggs and fish if you eat them
Side note: some of these foods are better sources of protein than others. But when you're eating a vegetarian or fully plant-based diet, it's important to plan for protein from a variety of sources. That way, you can be sure you're getting enough protein overall.
Now that we know how to put together a winning snack and where to find vegetarian protein, let's explore our 21 examples of high-protein vegetarian snacks, starting with Greek yogurt.
1. Greek yogurt bowls
Greek yogurt is strained, which means that it has less water and way more protein per serving than other yogurts…it also has less lactose, which might make it a bit easier to digest if dairy can give you some tummy troubles.
Greek yogurt can have quite a bit of sugar added to it, so keep that in mind as you're reading labels. But if you don't like the taste of plain yogurt, don't force yourself to eat it. Nutrition is about the nutrients in the food but also your enjoyment, too. Both are important!
What to pair your Greek yogurt with? Pick one or more things from the list!
Fresh or frozen fruit
Nuts and seeds
Peanut butter
Granola or other crunchy cereal
Crushed Oreos or graham crackers if you're craving something sweet!
2. Boiled eggs
Hard-boiled eggs are another high-protein snack that can be very satisfying, as well as easy to make.
Hard-boiled eggs are prepared by boiling them in water for about 8 minutes, then running them under cold water until they cool down enough to handle. (They're also easily cooked in the Instant Pot if you have one).
You can enjoy protein-rich eggs with:
Fresh or dried fruit
Whole grain crackers
Baby carrots and dip
P.S. If ease is your top priority right now, look for hard-boiled eggs at the grocery store – so convenient! Find more tips to eat healthy without cooking here!
3. Roasted chickpeas
Roasted chickpeas have protein and fiber, making them the perfect snack to fill you up between meals!
Roasted chickpeas can be prepared in a few ways. Many recipes are available to have them baked in the oven, but they're extra crispy and crunchy if you make them in the air fryer. You can try sweet (cinnamon sugar?!) or savory (ranch seasoning…) recipes too.
If you're interested in zero prep, THIS is my favorite brand. The sweet sriracha flavor is my top fav.
What to serve 'em with?
Dried fruit
A few cubes of cheese
Baby sweet peppers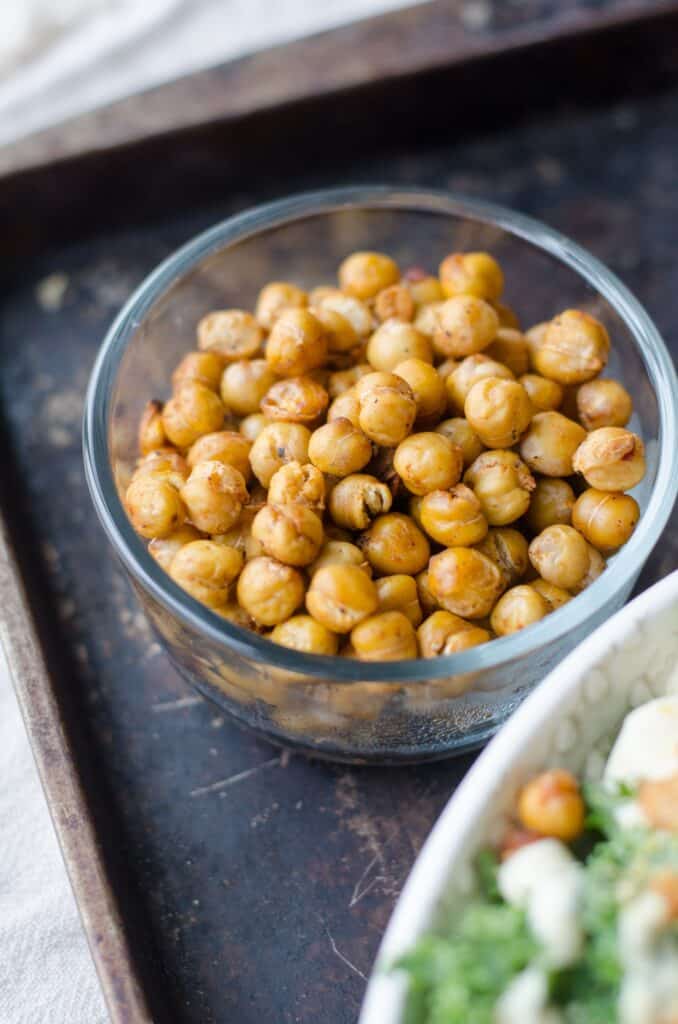 4. Trail mix
Trail mix is one high-protein snack that you can personalize to your very favorite tastes and textures.
Whether you buy or make your own trail mix, I recommend a high protein ingredient, such as nuts or seeds, and a mixture of sweet and salty ingredients.
Here are a few of my favorite trail mix ingredients:
Breakfast cereal
Pretzels
Cashews and other nuts
Pumpkin seeds
M&Ms
Dried fruit
Feel free to mix up a batch of high-protein trail mix and store it in a pretty glass jar on your counter, or if it brings you more ease in your on-the-go lifestyle, portion up some of your trail mix in individual containers so that you can have your tasty snack on the go!
5. Wasabi peas
Similar to roasted chickpeas, wasabi peas are green peas that have been dried and roasted until they're a satisfyingly crispy texture. They're salty and have a bit of a kick from the seasoning blend on them.
Wasabi peas can be a fun addition to a batch of trail mix or Chex mix or can be paired with:
Fresh or dried fruit
Sunflower seeds
Fresh veggies and hummus
6. Hummus
The OG hummus is a smooth dip made with blended chickpeas and tahini, but these days, folks are using different kinds of beans and flavoring them in a zillion different ways, including sweet!
For even more protein… I've even seen versions made with cottage cheese! Yum.
No matter what, beans are always a nutrition powerhouse with protein and fiber. Dunk raw veggies, whole grain crackers, or pretzels into your savory hummus. Or try apple slices or graham crackers in a sweet "dessert" hummus.
7. Smoothies with protein
Fruits are the base for most smoothies, which are rich in energizing carbs and fiber to keep you satisfied. But the beauty with smoothies is that you can customize them to meet your needs–including adding more protein!
And in case you're wondering if smoothies or juice are healthiest, read this: The Difference Between Smoothies and Juice: An RD Explains.
Here are some easy ways to add protein to smoothies:
Protein powder
Greek yogurt
Silken tofu
Soy milk
Hemp seeds
Ripple pea-protein non-dairy milk
Peanut butter
Collagen powder
If you love blueberries as much as I do, check out this high protein blueberry pineapple smoothie.
P.S. Made a smoothie that is too much for right now? Pour the extra into a popsicle mold for a cool treat for later – yum!
P.P.S. Smoothie "kits" can be meal prepped in plastic or silicone bags to save you time later. Or, you can find pre-made smoothies that save you even more time, such as Daily Harvest.
8. Steamed Edamame
Edamame is a variety of green soybeans that you may be familiar with as an appetizer when you're out for sushi.
But did you know you can also get these tasty little snacks in your freezer and quickly zap them in the microwave? You can buy in the pod or shelled. I recommend a sprinkling of salt or a bit of soy sauce before you eat them for flavor.
Edamame is another food that's great on its own because it has protein AND fiber. Woot woot! But if you want to pair it with something else, try these:
Mandarin oranges
Cashews
Vegetable sushi
9. Whole grain toast with toppings
It is worth a PSA that carbs aren't "bad" any time I talk about eating bread. Your body needs carbs and whole-grain bread is an easy, tasty, and fast way to get them.
The nutritious solution to enjoying bread in a healthy and filling way? Add protein! This can be done with delicious toppers or sides.
A few favorite toast toppers:
Sharp cheddar cheese + sliced pears + honey
Cottage cheese and fresh berries
Your favorite nut butter and cinnamon
10. Cheese and crackers
Classic combo, amiright?
Choose your favorite crackers and a few slices of cheese for a tasty, kid-and-grown-up-friendly snack. Add a few baby carrots or slices of apple if that sounds good, skip if not!
11. Pepitas
Have you tried those delicious, crunchy pumpkin seeds? They're spectacular!
If you've ever roasted pumpkin seeds after carving your pumpkin for Halloween, these seeds are a bit different; they don't have a shell around them and they're green in color, not white.
Like almonds, you can get them raw or roasted – choose what you like the best.
And for an easy, high-protein vegetarian snack, pair your pepitas with your favorite fruit and you've got a balanced option! They are especially delicious mixed with raisins or dried apricots.
12. White bean guacamole
Beans – is that you again?
Yup! Love another option for beans for a snack!
If you mash or blend white beans with some avocado, you have the creamy texture of avocados with all of the high-fiber and healthy fat goodness… boosted with the protein and fiber from the beans. Add some garlic powder, salt, and lemon juice, and your dip is ready for dunking.
Scoop up your dip with:
Tortilla chips
Cucumber slices
Baby carrots
Plantain chips
Curious about what else is fiber-packed? I wrote a whole list right here: Printable List of 90+ High Fiber Foods (FREE Download).
13. Popcorn and cashews
People often ask me, as a dietitian, which kind of nut or seed is the healthiest.
The truth is that each nut and seed has different nutrients that they're the highest in, so the best plan in terms of being a healthy eater is to eat a variety of nuts and seeds throughout the week. (That trail mix idea is an easy way to get a variety of nuts and seeds in with minimal effort, right?)
Cashews are particularly high in copper, as well as magnesium and manganese. In contrast, brazil nuts are the star for providing selenium. They're all great!
Cashews + popcorn are a great snack combo! Protein, healthy fats and fiber… you truly couldn't ask for more!
14. Greek yogurt veggie dip
Greek yogurt – time for another mention on the list!
Greek yogurt is a great option for a high-protein dip. All you have to do is add your favorite seasoning packet and stir–I love it with ranch or french onion!
I love using the dip as an enjoyable way to get in more veggies, such as baby carrots, snap peas, or mini cucumbers (those are the sweetest!). It's also delicious with potato chips!
15. Apple nachos
Hear me out: if you slice apples nice and thin and spread them out on a plate, you can drizzle them with alllll the toppings.
You've now made apple nachos, and it is way more fun than just chomping on an apple.
Here are a few favorite toppings to pump up the protein and/or flavor:
Vanilla yogurt
Melted peanut butter (or not, if your peanut butter is pretty drippy)
Chocolate chip (could melt 'em with the peanut butter)
Chopped nuts
Shredded coconut
16. Chia pudding
Chia seeds are so fun – they are so teeny tiny when they're sitting in their little container and majorly plump up when you soak them in liquid.
These seeds are pumped up with all of the macros; protein, fat, and carbs, and have a great dose of fiber, to boot.
My favorite way to enjoy chia seeds is as pudding. Here is my favorite recipe (but feel free to customize it to your taste buds). This high protein chia pudding recipe is absolutely amazing with fruit, nut butter or granola!
P.S. Chia seeds are a great smoothie booster, too.
17. Protein oats
We all probably know that oats are super healthy for breakfast; the specific kind of fiber in oats is particularly healthy for your heart and digestive tract.
Oats can also make a super delish snack. Because oats are mostly carbs, I recommend boosting your oats with some protein so that they have a bit more staying power. Egg whites or protein powder are my go-tos for ramping up the protein in my oats.
(BTW: we're talking about cooked oats on the stove, not overnight oats with regards to adding egg whites. Here's one recipe option that explains everything).
18. Tofu with dip
Time for the air fryer again! This time, we're seasoning and then crisping up firm tofu. It's fast, filling, and tastes great. Here is one example recipe: Crispy Air Fryer Tofu.
Once your tofu is crisped up, dunk it in your favorite dip. My absolute FAVE is this greek yogurt dill pickle dip. You need to try it.
19. Chickpea salad
Sometimes the difference between what counts as a meal vs. a snack is just the portion size.
My spicy chickpea salad (think chicken salad, not lettuce salad) makes a delish lunch or dinner, and if you are feeling it for a snack, go for it!
Scoop up this salad with your favorite whole-grain crackers, have it on toast, or use it as a dip for your favorite crunchy veggies (it is fun to use as a "stuffing" for mini-sweet peppers).
20. Protein energy bites
I don't think I can ever have enough peanut butter – are you as big of a fan as I am?
With a tasty base of oats and peanut butter, my Easy Peanut Butter Bliss Balls are rockin' three different seeds and a scoop of your favorite protein powder. They come together in your food processor really quickly and are make-you-think-you're-eating-cookie-dough delicious.
P.S. If you don't have a food processor, I have a workaround for you – check the recipe card!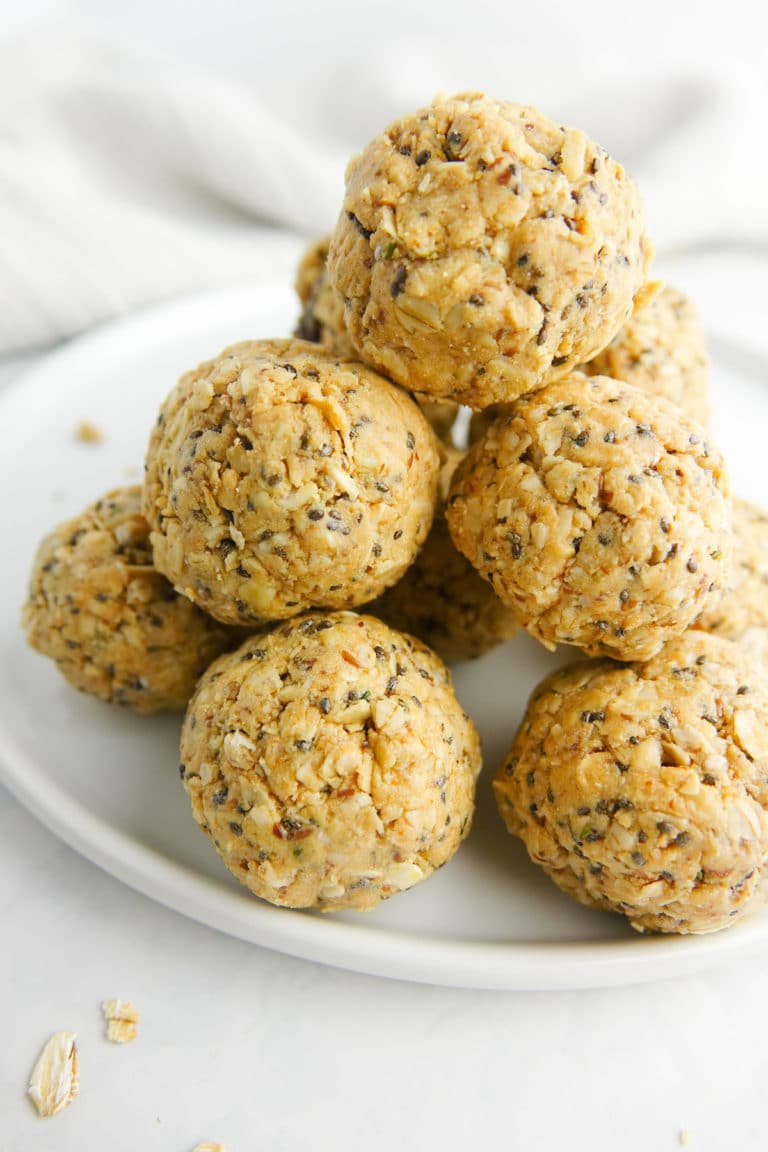 21. Protein bars
As much as I love enjoying snacks that I've made myself, sometimes we just don't have enough time!
There are a lot of options for protein bars that you can consider. When I'm picking out a protein bar, I aim for less sugar than protein and at least 12 grams of protein overall.
But most important? It's gotta taste good. I don't recommend choking down something that is chalky or off-putting to your taste buds in the name of nutrition.
I really love these protein bars–but there's so many options to choose from. I'd recommend taste testing to find one that satisfies you!
That's a (high-protein) wrap
Not only is variety the spice of life but it also helps us to eat in a more balanced and nutrient-dense way.
By alternating your protein sources at meals and snacks, you offer your body a wide variety of nutrients.
Even if you're not eating meat, you can get more than enough protein when you combine more than one food group for snacks. This helps you to feel energized, satisfied, and not outta control at night.