31 Best Add-Ins for Smoothies
Want to learn to build healthy and filling smoothies with ease? This post shares the best add-ins for smoothies to make your blends tasty, balanced, and nutrient-packed.
How to make a healthy smoothie
As a registered dietitian, I love to recommend smoothies as a quick and delicious way to add nutrition to your life and improve your health!
With the right mix of ingredients, balanced smoothies can help with weight loss, digestion, heart health, and more! But without proper guidance, smoothies can be a recipe for intense cravings, unstable energy levels, and accidentally eating more calories than you need.
You'll need 5 simple foods to build a healthy and filling smoothie:
High fiber fruit
Smoothie-friendly vegetables
Protein sources
Fat and fiber boosters
Flavor enhancers
The healthiest add-ins for smoothies are tasty, filling, and nutrient-dense. Read on to learn what I recommend adding to your smoothies as a dietitian and why!
High fiber fruits
Fruit is important in smoothies because it makes them taste good. And fruit is a great source of dietary fiber, vitamins, and antioxidants too!
Choosing higher fiber fruit means building smoothies that keep you full for longer. And the more fiber you include, the better you're supporting your heart, digestion, mood, and more!
High fiber fruits to add to smoothies:
Raspberries
Blackberries
Pear
Kiwi
Apple with skin
Guava
Dietitian tip – frozen fruits are just as nutritious as fresh. Choose what fits your budget and lifestyle best!
Smoothie-friendly vegetables
A smoothie-friendly vegetable is one that blends well and has a neutral taste.
Colorful veggies are an important source of phytonutrients and antioxidants. So you can technically add whichever ones you love! But some are more enjoyable in smoothies than others.
Vegetables to add to smoothies:
Spinach
Kale
Frozen zucchini
Frozen cauliflower rice (yes, really!)
Cucumber slices
Carrots
Dietitian tip – the more veggies you add, the more bitter your smoothie. Start with less (¼ cup or so) and add more over time!
Protein sources
A solid source of protein is probably the most important ingredient you can add to your smoothies!
Protein helps you feel full and keeps cravings to a minimum. Without protein, smoothies are unbalanced and likely high in carbohydrates. Carb-focused foods and drinks can cause unstable energy, low mood, and extra hunger. Yikes!
Protein sources to add to smoothies:
Protein powder (like this vanilla whey protein)
Silken tofu
Soy milk
Dairy milk
Greek yogurt
Cottage cheese
Hemp hearts
Dietitian tip – if you want to turn your smoothie into a meal, double-up on protein! I love combining protein powder and greek yogurt in my smoothie blends.
Fat and fiber boosters
Fat and fiber work together to make smoothies nutrient-rich, tasty, and actually satisfying.
I recommend adding some of these healthy fat and fiber boosters to your smoothies often. This will be extra important when you want to turn a snack-smoothie into a meal-smoothie. Those extra calories and nutrients will keep you full for longer!
Fat and/or fiber sources to add to smoothies:
Chia seeds (these are EXTRA high in fiber)
Ground flax seed
Natural nut butters
Whole nuts or seeds
Avocado
Oats
Dietitian tip – keep chia seeds, ground flaxseeds, and hemp seeds in your fridge to keep them fresh for longer.
Flavor enhancers
Controversial opinion: a smoothie is only healthy if you actually like how it tastes.
Because there's nothing healthy about choking back an extra green, extra gritty smoothie, that only leaves you craving cookies and chips later that night! You know? These flavor enhancers can help make sure your smoothies taste as good as they leave you feeling.
Delicious flavor enhancers to add to smoothies:
Tropical fruits like mango and pineapple
Spices like cinnamon or a pinch of salt
Medjool dates
Splash of juice
Cocoa powder
Fresh ginger
Dietitian tip – sometimes making a smoothie taste good is about your ingredient ratios. Try using a little more fruit and a little less veggie, and see how you like it!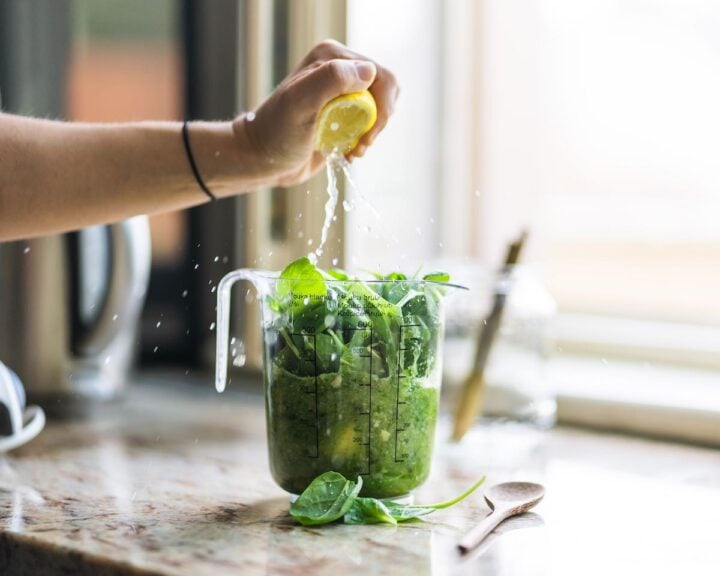 Common smoothie mistakes
Sometimes, a high sugar, all-fruit smoothie is just what you're craving. And that's okay!
But if you enjoy smoothies regularly, it's important to understand the best add-ins for smoothies to support your health and happiness. Especially because an unbalanced smoothie can leave you hungry, irritated, and low on energy.
Here are common smoothie mistakes I see as a dietitian:
Not enough protein
Not enough fiber
Too much juice or honey
Unnecessary ingredients like greens powders
Not tasty (remember, satisfaction matters!)
Final thoughts on smoothie add-ins
Smoothies can be a delicious way to support your health. Or, they can be a sneaky source of added sugars that leaves you feeling hungry and… well, hangry!
Building nourishing smoothies with high fiber fruits, colorful vegetables, protein, fiber, healthy fats, and tasty additions can help. With the right balance of these add-ins for smoothies, you can support your health with a nourishing breakfast or snack without spending hours in the kitchen.
There's no right or wrong way to build a smoothie. Use this article to help you experiment with ingredients, ratios, and serving sizes… and happy sipping!
Healthy smoothie recipes you'll love